Is the first trimester over yet? Well, it depends which definition you go by.
Development Method - First trimester ends at 12 weeks when the baby is officially a fetus and all major organs are developed.
Gestation method - Divide 40 weeks by 3, and the 1st trimester lasts until 13 weeks 3 days.
Conception method - Divide 38 weeks after ovulations by 3 and the first trimester lasts until 14 weeks 5 days.
I prefer to use the development approach because I'd rather think of the first trimester as being over as soon as possible.
Given today's date, I don't many people will be watching YouTube videos today, so I thought it would be a good time to focus on recapping my first trimester.
Physical Changes - I'm up 10.5 lbs, which is a lot, but I am still a couple pounds less than my pre-pregnancy weight with baby #1. I was eating a lot to try to counteract nausea this trimester, so I hope the weight gain will slow. I'm up a bra size. I have exchanged by 34D bras for 36D. Right now I am alternating between a Bravado Allure in size 36 D/E that I had leftover from my early nursing days and a new Victoria Secret Bra in 36D. The Victoria Secret bra is from the Flawless collection and I think is being discontinued because I got it on a great sale. I also have a Bravado Bliss in 36 D/E, but that bra is still too big. I am wearing a mix of maternity and non-maternity clothes. I don't really fill out my maternity clothes, but some of my regular clothes are getting tight. My bella bands have been great and have allowed me to continue wearing many pre-pregnancy bottoms. The nausea of the first trimester is past, but I am definitely still feeling more tired. I am sleeping mostly on my back and will as long as I can, because switching sides at night is a complete chore. I am getting up two times a night to pee, which is affecting the quality of my sleep.
Sharing the News - We have officially told almost all our important friends and family. We used this shirt to share the news. I ordered it without the bow and with a black shirt instead of the white. Ours reads "only child expiring july 2014". I bought my daughter this book and we have been this book to help her get used to the idea of a baby in mama's belly. The book is a bit overpriced but I haven't found any other books that focus on explaining pregnancy. The actual birth is far away, so I don't want to focus on what our daughter will have to do after the baby is born.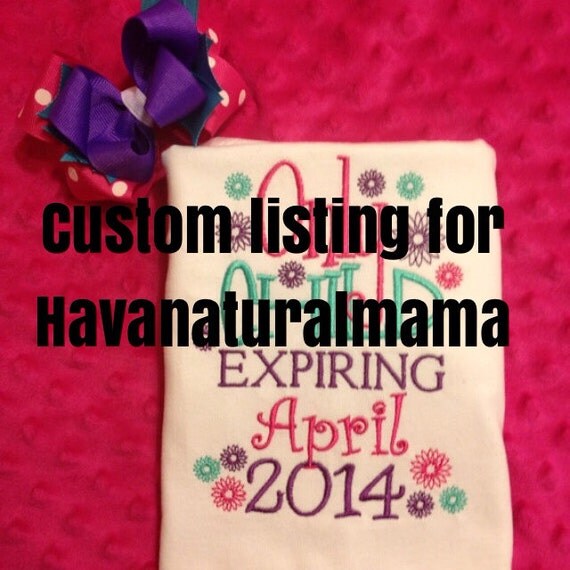 So, bye bye first trimester! I will likely still use my first trimester
Lindsey Brin DVD
for a couple more weeks, but other than that I am happy to enter the best trimester of pregnancy. Second trimester, here we come.